Elon Musk could lose CEO position after "Tesla stock price is too high," tweet
Before we talk about the stock price of Tesla, let us read what Elon Musk has been tweeting since last week. The SpaceX CEO and Tesla co-founder has been on sort of a ranting spree on Twitter. He even tweeted lyrics from "The Star-Spangled Banner" after demanding that people be given back their freedom.
Another tweet read: "I am selling almost all physical possessions," he wrote. "Will own no house."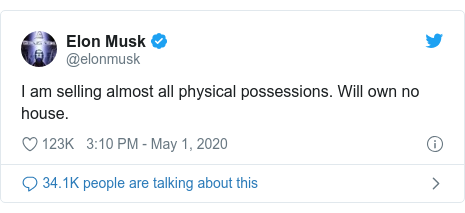 Musk's tweets appear to be a response to shelter-at-home orders placed by the government due to the coronavirus pandemic. On Wednesday, Musk tweeted his support for Texas reopening businesses with limited capacity, following the COVID-19 outbreak. He also shared an opinion piece from The Wall Street Journal, titled "Do Lockdowns Save Many Lives? In Most Places, the Data Say No."
"Give people their freedom back," he tweeted along with the link. On Thursday, he also tweeted an article from The Hill, "The data is in—stop the panic and end the total isolation."
On Friday, Musk again stirred the controversy by tweeting that "Tesla stock price is too high imo (in my opinion)".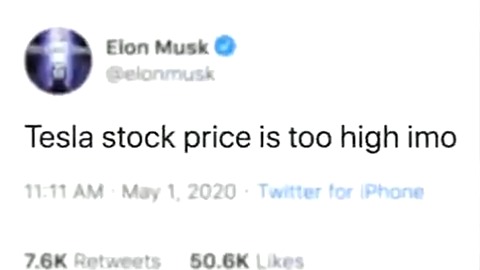 Tesla Inc stock tumbled 9% on Friday after Chief Executive Officer Elon Musk tweeted that the electric carmaker's high-flying stock was overly expensive.

"Tesla stock price is too high," Musk said on Twitter in one of several unusual messages, including ones quoting parts of the U.S. national anthem and that he would sell almost all his physical possessions.

The subsequent share drop erased around $13 billion from Tesla's market value and nearly $3 billion from the value of. Tesla's market valuation was worth around $141 billion before the first tweet and it nosedived to nearly $127 billion.

One user replied to Musk: "Are you doing it because you need the cash or is this to protest the world burning down?"
Musk replied: "Don't need the cash. Devoting myself to Mars and Earth. Possession just weighs you down".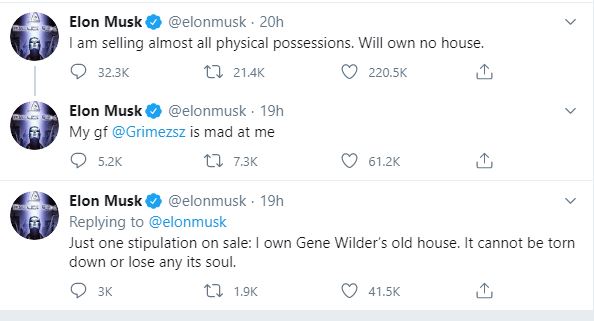 Musk also got into hot water over tweeting about Tesla before and causing major moves in the price of its stock. He's supposed to have some guardrails in place now around his social media activities, but apparently, the Tesla chief executive is not paying too much attention to them.
After his little tweetstorm on Friday, Musk noted that his girlfriend, musician Grimes, is mad at him. Tesla investors probably are, too.